MDS Edge
Please note: Helmets displayed with black or mirrored visors, will always be delivered with a clear visor!
Not currently deliverable

Würselen store
Order your product online for pick-up at the store.
How it works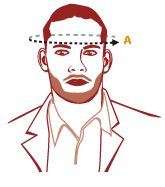 A. Use a measuring tape around the widest point of your head (approx. 1 cm above the ears) to get the correct measurement for a helmet.
Apply the calculated value from the table.
Adults
 
 
 
M
 
 
 
 
Ordering size
XS
S
MS
ML
L
XL
XXL
XXXL
Head circumference in cm
53-54
55-56
57
58
59-60
61-62
63-64
65-66
Head circumference in inches
6 5/8-6 3/4
6 7/8- 7
7 1/8
7 1/4
7 3/8-7 1/2
7 5/8- 7 3/4
7 7/8- 8
8 1/8-8 1/4
Kids
Ordering size
XXXXS
XXXS
XXS
XS
S
Head circumference in cm
47-48
49-50
51-52
53-54
55-56
Head circumference in inches
5 7/8-6
6 1/8-6 1/4
6 3/8-6 1/2
6 5/8-6 3/4
6 7/8- 7
 
---
Customers who bought this product also bought
---