Dainese Misano 2 Lady D-Air® Airbag One Piece Perforated Ladies Motorcycle Leather Suit
The first ever D-Air®leather track suit designed specifically for ladies, based on Dainese's icon with the latest generation of the D-Air®airbag technology. Misano 2 D-Air® has been revisited to enhance comfort and protection, featuring new ergonomics like the knee grips inserts and self-locking zippers on wrists, that guarantee a legendary fit. High safety standards are upgraded by new sliders on elbows and integrated knee protectors with unexposed stitching. 3rd generation D-Air®is fully embedded into the suit and integrates the Track-It system, that allows to download and check main performance data like lean angle and speed.
General Features:
KGI (Knee Grip Insert technology)
knee slider 2.0
soft insert on the coccyx
waterbag kit ready
Ergonomics:
bi-axial elasticated inserts
big aerodynamic spoiler
Microelastic 2.0
Main materials:
aluminium
D-skin 2.0 full grain cow hide
S1 bielastic fabric
Performance Shock:
advanced knee construction with protected seam
composite protectors (EN 1621.1 Level 2 standard) on elbows
elbow slider RSS (Replaceable Slider System)
seamless aluminium plates on elbows
seamless aluminium plates on shoulders
soft protectors (EN 1621.1 Level 1 standard) on shoulders
soft protectors (EN 1621.1 Level 2 standard) on hips
Temperatures Regulation:
3D-bubble fabric inserts
localized perforation
NanoFeel removable liner
D-Air® system:
The D-Air® system works in synergy with existing protectors integrated into the leather suit to protect the following body parts:
neck (limits head tilt relative to neck and reduces helmet movement when unrolling)
shoulder
clavicles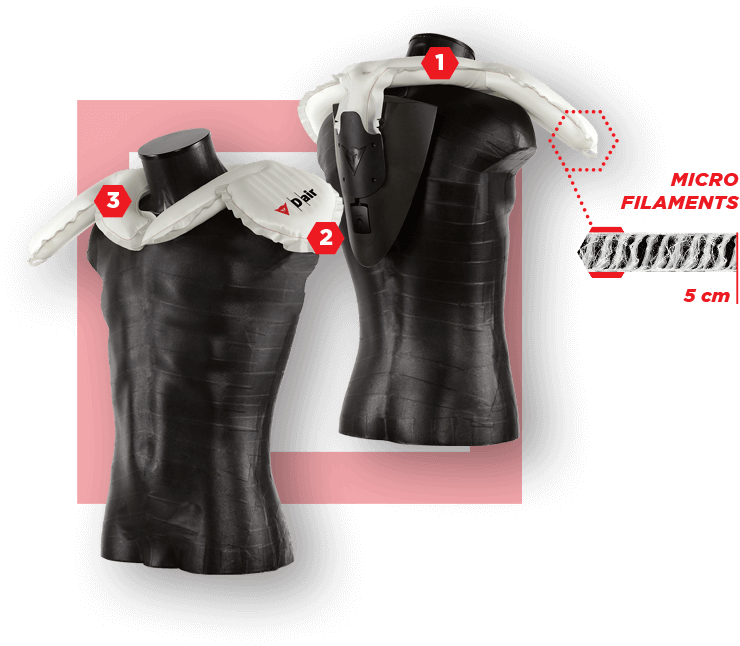 The airbag is inflated with high pressure, is anatomically shaped and has a volume of 4 liters.
D-Air® detects and activates its revolutionary additional protection in the following accidents:
Highsider: The driver is "catapulted" by the motorcycle after the rear wheel slips and suddenly regains liability.
Lowsider with rollover: Slipping of the front or rear wheel and rolling the driver.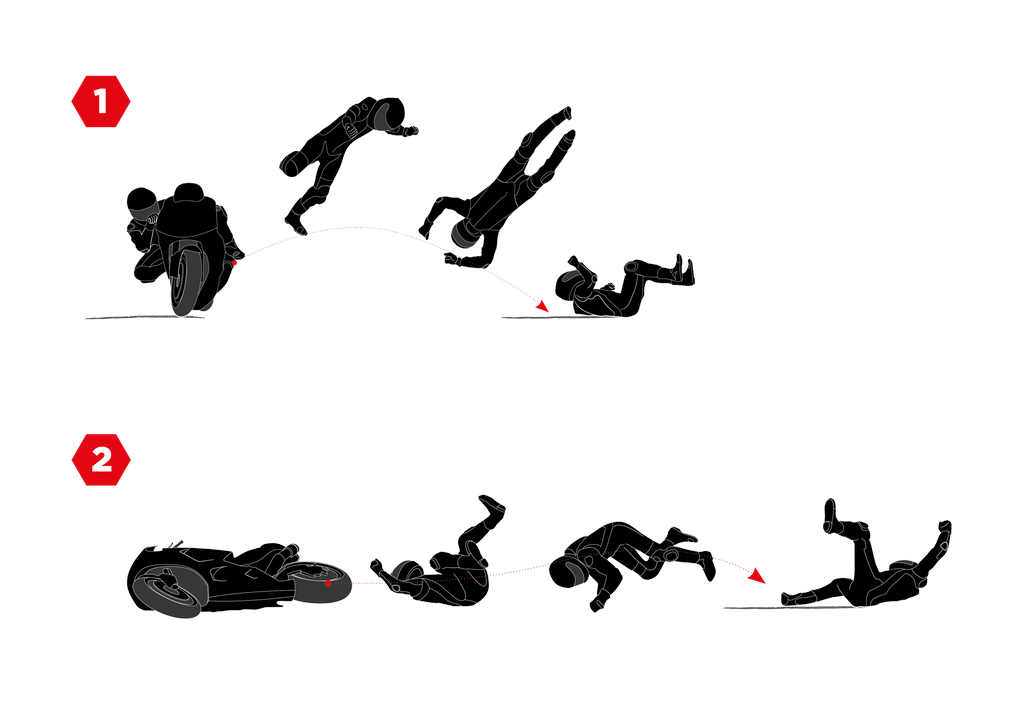 Thanks to the intelligent algorithm, D-Air® detects the intensity of a fall and only unfolds when necessary during one of the accidents mentioned. The system unfolds z. As in falls at less than 50 km / h or falls, where the dynamics does not require the additional protection of the airbag, not.
Note:
This item can only be shipped within Europe!